guys, here's the latest issue of "Yes Magazine (Hong Kong)" and there's an interview of Robsten and Taylor and I scanned it, so u can check it out :D but i'm sorry again that i can't find any translations for this, so i just translate it myself, however I'm not going to go into details, so I won't traslate Taylor's interview, i'll just translate the two-pages-interview of Robsten XD
Kristen sort of once again confirms her relationship with Rob, so haters should shut up now !!!
once again, if u know how to read Chinese, read other pages urself :) and if u r living in Hong Kong, u may even go and get a copy :P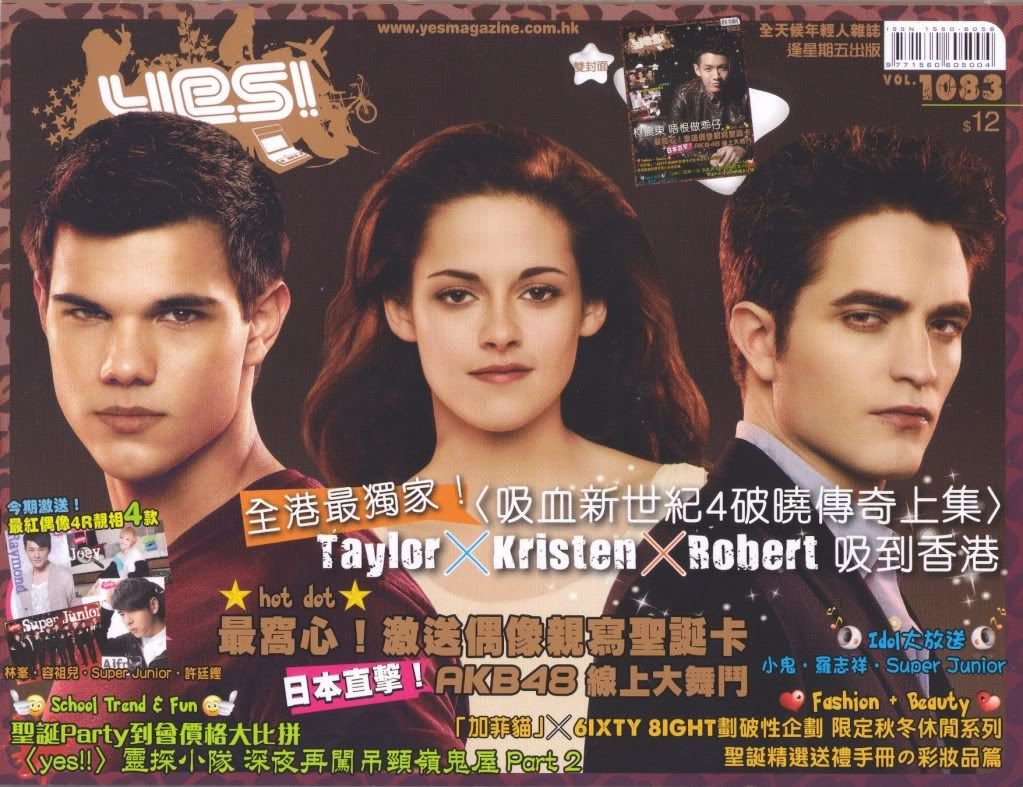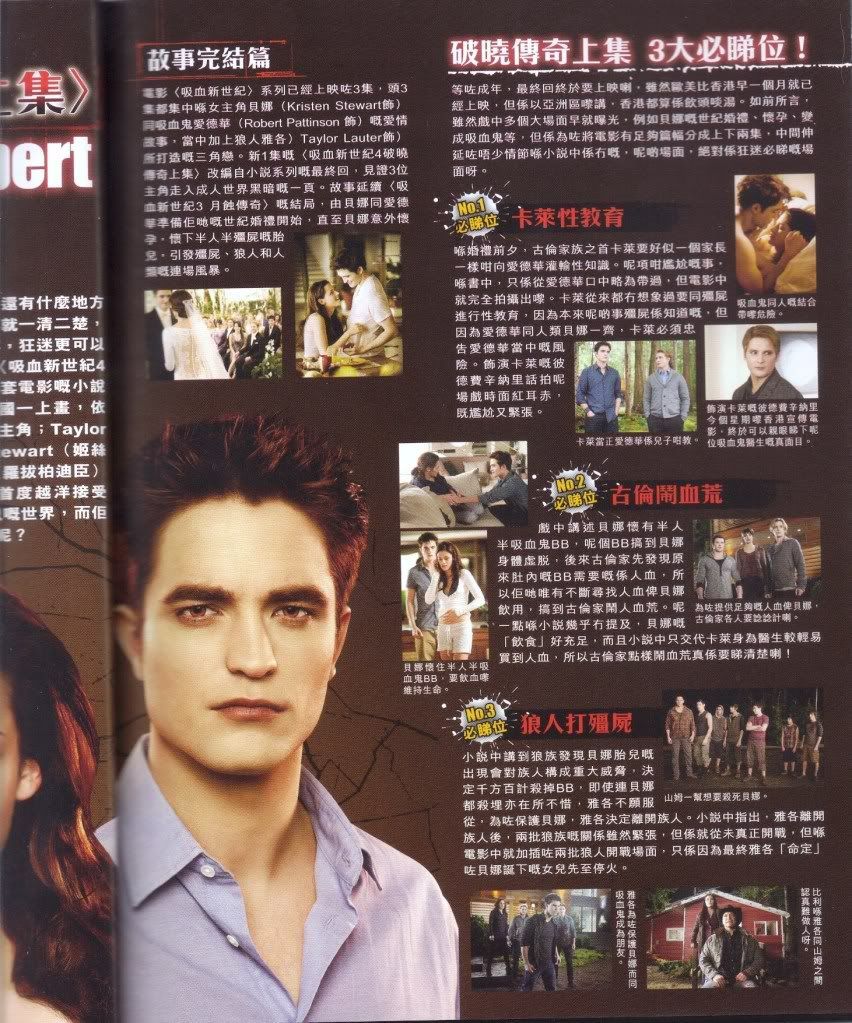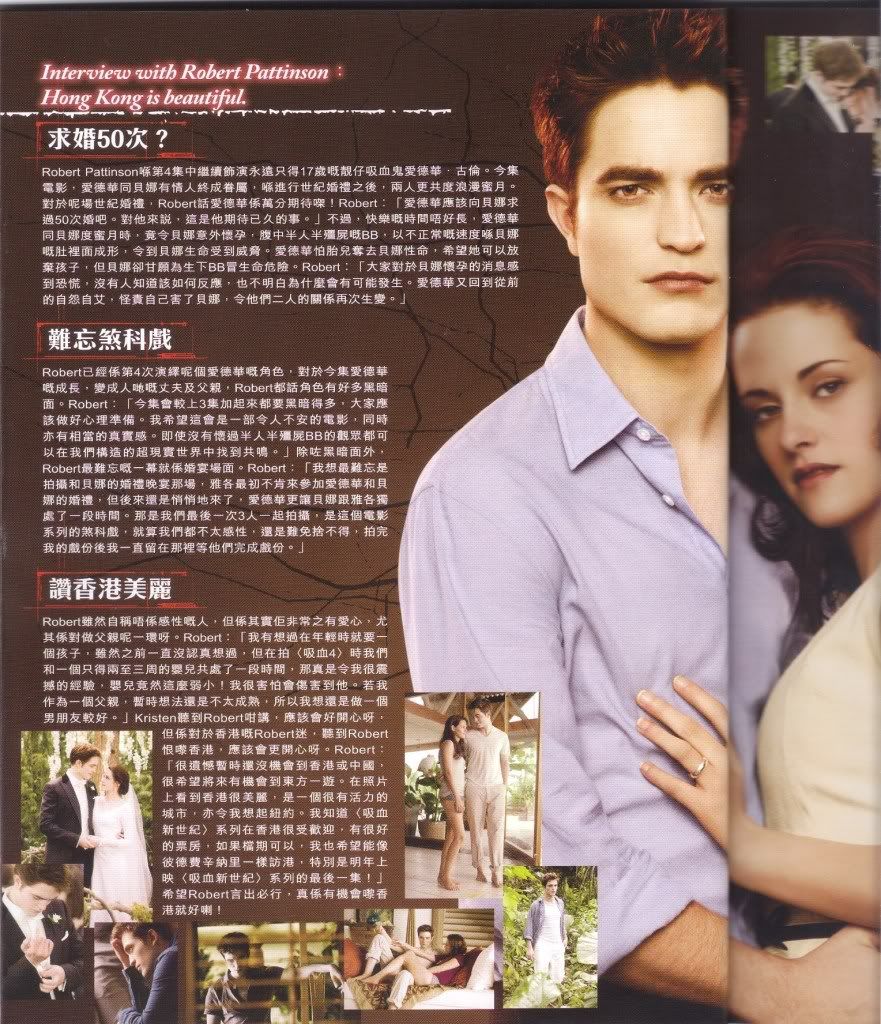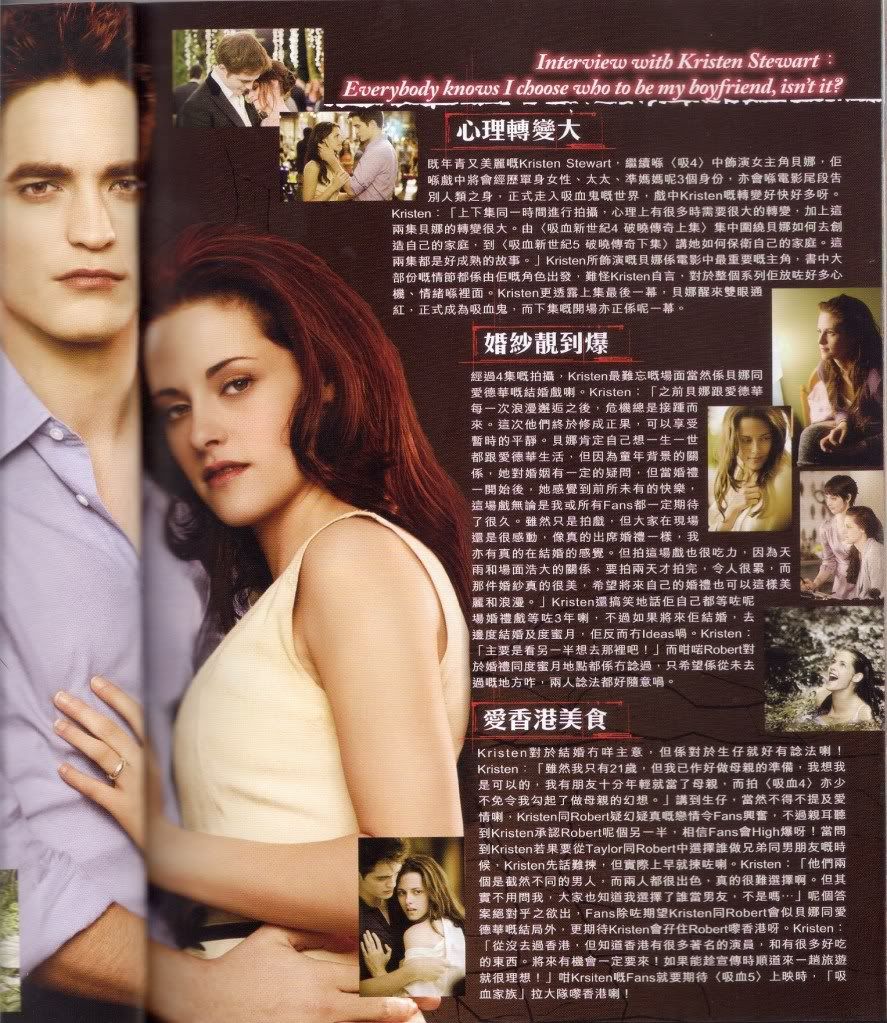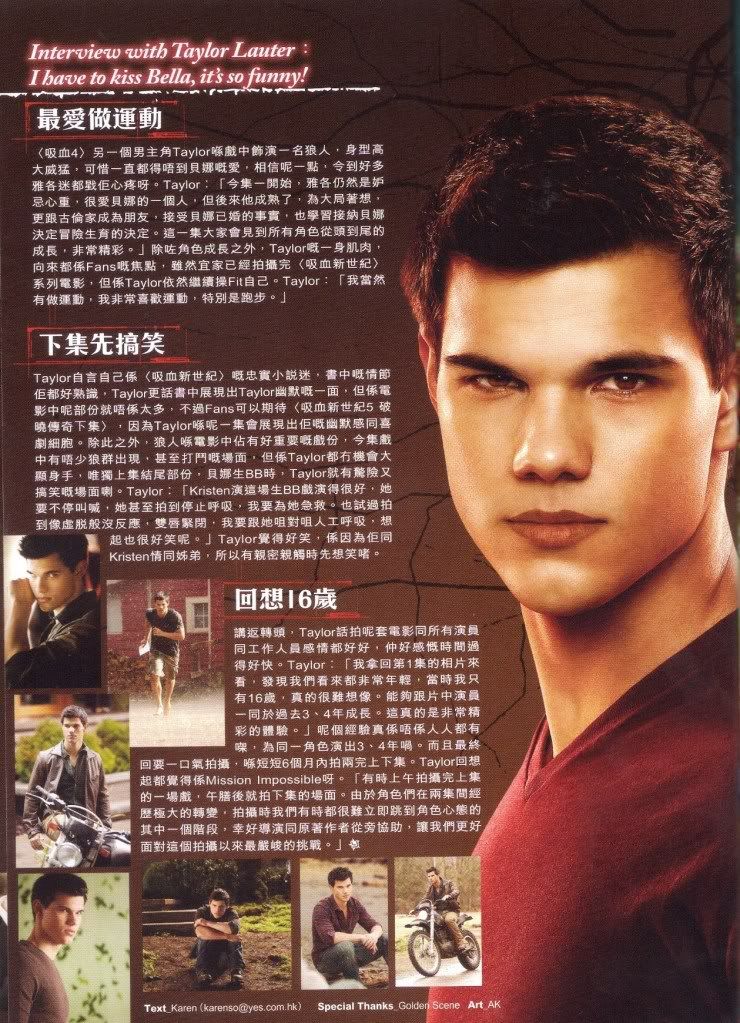 Headlines of the Rob, Kristen, and Taylor's Interview from Yes Magazine !!!
Rob: Hong Kong is beautiful.
Kristen: Everybody knows I choose who to be my boyfriend, isn't it ?
Taylor: I have to kiss Bella, it's so funny !
Kristen and Rob both said that they have no idea where to get marry and where to go for honeymoon in real life. Kristen even said, "It depends on where my husband want to go for honeymoon."
awww... they are just so sweet !!!
Rob's Interview
Rob said, "Edward has proposed to Bella for more than 50 times. So to him, this (the wedding) is something he longs for. Everyone is scared because of Bella's pregnancy, and don't know how to react, and even don't understand why something like this (bella's pregnancy) would happen. Edward starts to blame himself for harming Bella, and this make another twist of their relationship."
Rob also mentioned that Breaking Dawn is darker than all Twilight, New Moon, Eclipse, so everyone should be mentally prepared. He hopes that this will be a movie which makes people uncomfortable, but at the same time let people feel how real it is and how it relates to our daily life even though in our daily live there won't be any half-human-half-vampire baby.
Rob also said, "I thought about being a young dad, but do not really think about it precisely. But when filming Breaking Dawn, we have to film with a two/three weeks old baby, and that was really a shocking experience, baby could be that small ! I'm afarid that I would hurt him. If I'm going to be a dad now, I think it's not mature, so I think I'd rather be a boyfriend now."
Rob's most unforgettable scene
Rob's most unforgettable scene is the wedding. He said, "At first, Jacob is not willing to come to Edward and Bella's wedding, but later he still comes and Edward lets him and Bella alone. This scene was the last scene we three filmed together, and was also the last scene of the movie; though we are all not people that will easily get touched, but still we miss it. After I finish my filming, I stayed there to wait for them to finish their's.
Rob talks about Hong Kong
Rob said,"It's bad that I still have no chance to go to Hong Kong or China, but I hope I can go there in the future. From photos, I know that Hong Kong is so beautiful, it's a dynamic city, and make me think of New York. I know that The Twilight Saga is very popular in Hong Kong, and has a great box office, so if my schedule allows, I would like to visit Hong Kong just like Peter Facinelli, especially next year is the last movie of the saga."
Kristen's Interview
Kristen said, "We filmed Breaking Dawn Part 1 and Part 2 together, and it needs a lot changes psychologically. From how to build up her (Bella's) own family to how to defend her family. Both movies are mature."
Kristen also said, "Since their (Edlla's) romance, they are always vulnerable, and this time they finally get married, and can enjoy a moment of peace. Bella is certained that she wants to be with Edward forever, but because of her own background, she questioned about marriage. But once the wedding starts, she is happier than ever, so this scne to me or to the fans is really something that we hoped for. Even though it's just filming, everyone is still so touched, like they are attening a real wedding and I feel like I'm going to get marry for real. However, filing that scene is difficult, because of the weather and how grand the wedding should be, we used two days to film it. The wedding dress is so beautiful and I hope that one day my own wedding would also be that beautiful and romantic."
Kristen talks about being a mother
Though I'm just 21, I'm prepared to be a mother, I think I should be OK with that. I got friends who are young mother, and filming Breaking Dawn gives me a lot of imagination of being a mother.
Kristen sort of confirms her and Rob's realtionship
When asked about who, Rob or Taylor, would she choose for boyfriend and best friend, Kristen first replied that it's difficult to choose, but then she said, "They are so different, and are both great, so it's difficult to choose. But actually you don't have to ask me, everybody knows I choose who to be my boyfriend, isn't it ?"
Kristen talks about Hong Kong
"I've never been to Hong Kong, but I know that there's a lot famous actors and delicious food. So if there's ever a chance, I must go there ! If I can travel there as well as doing promotion, then it will be fantastic !"
well, I do hope ROBSTEN will come to Hong Kong next year to promote breaking Dawn Part 2 XDD